With lots of great waterways throughout the state, Michigan has a lot of great spots for you to take out your canoe for a lazy afternoon.
If you're looking for some great spots this weekend, check out our list below of our top picks. You won't be disappointed if you head out on any of these rivers.
Huron River
The Huron River water trail winds its 55 mile course through the Detroit Metropolitian Area and along the wild Michigan countryside and into idyllic Ann Arbor. 
The multiple launch and campsites along its banks make it the most accessible canoeing river in Michigan and the perfect choice for a weekend camping trip.
Huron River's mild current and relatively few obstacles make it suitable for beginners and families with younger children.
Manistee River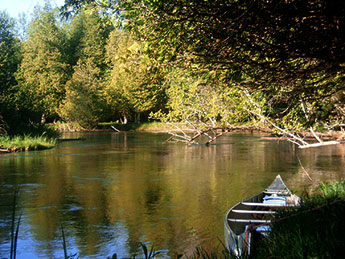 The Manistee River is one of the longer, gentler canoeing rivers in Michigan's Lower Peninsula.
The Manistee plots a smooth 160 mile course through Michigan hard wood forests packed with wildlife.
Catch a glimpse of a white-tail buck drinking from the river's bank or watch a Scarlet Tanager flit through the tree branches overhead.
Thanks to the Manistee River's lack of rapids and portage all levels of canoers can appreciate its beauty.
Muskegon River
The Muskegon River is the second longest river in Michigan.
It flows for more than 200 miles over the Lower Peninsula from Houghton Lake to Lake Michigan.
The best places to view Michigan wildlife are launches closer to Houghton Lake, but breathtaking views of Michigan forests can be had throughout the 200 mile stretch.
For the most part the Muskegon River is tranquil with an easily managed current, so families with younger children and canoers just starting out should feel comfortable navigating this peaceful river.
Jordan River
Hidden in the Northwest reaches of Michigan's Lower Peninsula lies the rugged and rapid Jordan River. 
The Jordan River was the first Michigan river Federally designated as a wild and scenic river for good reason.
This crystal clear river transports canoers into a breathtaking wilderness straight out of the history books.
The Jordan River water trail is a mere 9 miles long, so it's prefect for a half-day excursion.
Its tight bends, swift current, and many obstacles make this a destination spot for intermediate and expert canoers.
Although some families enjoy the challenge of the tougher course, this is not the best river for those just learning the basics of canoeing.
Pere Marquette River
The Pere Marquette River is a beautiful river in Michigan's Huron-Manistee National Forest.
It should be noted that if you want canoe this river at any time from May 15 through September 10 you will need to get a permit.
The permit itself is free, but there are only a set amount given out for any given day and the $2 reservation fee is nonrefundable.
The permit helps to keep the waterway from getting overcrowded so that you can better enjoy the pristine nature all around you.
The current is moderately fast and quickly become difficult to manage for novice canoers.
The Rainbow Rapids should also give beginners a pause, but is a favorite of intermediate canoers.
Au Sable River
The Au Sable River is a gorgeous river located in Michigan's Lower Peninsula.
It is a very popular river with canoers as evidenced by the annual canoe marathon they hold there every year.
There are large stretches of wilderness between well-situated camps and even some historical sites along the way.
If you travel on the south branch don't forget to stop at the historic Durant Castle for a quick break.
Sylvania Wilderness Area
Sylvania Wilderness Area is an unspoilt canoeing spot in Michigan's upper peninsula.
The National Forest Services keeps Sylvania pristine by enforcing restrictive regulations.
If you are interested in canoeing here you will have to jump through a few hoops, but it is well worth it.
There are many lakes to choose from in Sylvania and each has it's own unique characteristics that will thrill everyone around your camp fire.